There are a few other variations on this theme, but I thought this won for best seamless photoshopping. If you don't recognize her, that's Rachel Dolezal, a very white gal famous for being "trans-racial."
---
White racists take another Black Woman's face off the shelves.
Having resisted racist attempts to silence her for the past 130 years, Black Icon Aunt Jemima has been banished by the latest wave of White Privilege and racism. Lily white, racist, Pepsi management, has banished one of the few remaining sources of Black Pride in grocery stores. No longer will Black Children be able to see a successful Black face telling them that they are an important part of America, and that they too can be a success.
Doesn't America care about the children? Not if they are black, says Pepsi.
Posted by: An Observation on A♠ at June 17, 2020 11:17 AM
Re-posted with permission
---
Aunt Jemima Logo Evolution
Wikipedia: Early advertisements used an Aunt Jemima paper doll family as an advertising gimmick to sell the product. Aunt Jemima is represented with her husband, Rastus, whose name was later changed to Uncle Mose to avoid confusion with the Cream of Wheat character, and their five children: Abraham, Lincoln, Dilsie, Zeb, and Dinah. The doll family was barefoot and dressed in tattered clothing with the possibility to see them transform from rags to riches by buying another box with civilized clothing cut-outs.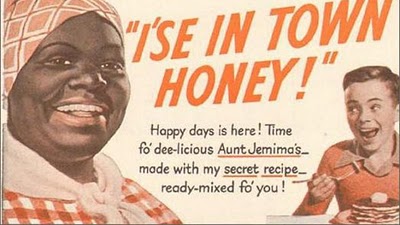 ---
Mrs. Butterworth's syrup announces it will re-brand hours after Uncle Ben's rice and Aunt Jemima both reveal plans to scrap their names in a bid to end 'racial bias'
From Daily Mail UK, which may exhibit a bias of its own in its reportage.
---
Quaker Oats Replaces Historically Racist Aunt Jemima Mascot With Black Female Lawyer Who Enjoys Pancakes Sometimes
—The Onion
---
Aunt Jemima "I'se in town, Honey!"
Jim Crow Museum – Feb 7, 2013 – 4:05
A short video showing the marketing of Aunt Jemima and how this campaign has impacted many today.
Many consider Aunt Jemima as a kind, happy motherly figure who made great pancakes. Aunt Jemima, sang songs, cooked pancakes, and told romanticized stories about the Old South as a happy place for blacks and whites. But examine how these interpretations came to be and whether they were based on reality or in marketing. How many times does it take to call Aunt Jemima "Happy" before everyone believes it? And does just saying she is "Happy" make it so?
---
And while we're on the whole historical racial attitudes thing… here's a classic from Ub Iwerks, the genius of early wacky animation.
h/t Tom Servo on A♠
The stereotyping can be startling even for an old jaded fellow like me. ("That tiger sho' do like dark meat" — urk!). But other than "washing a black baby turns the water black" and "using black powder to diaper a black baby," and the fat-assed aunt jemimah happy mammy and…
Anyway, once you get past all that, it's really just a typical "happy times, sudden threat, foe vanquished" plot used in many early cartoons. Might be the icicle monster threatening the tiny mushroom people. And Sambo turns out to be a pretty smart fellow.
Besides, at the beginning, the undulating checkerboard on mammy's skirt is a remarkable bit of animation work. Fat mammy aspects aside, as I so frequently say when watching old cartoons, butts are funny. Notice the tiger also gets a hot-skillet paddling. Butts. Hahaha.
---
Dolezal image h/t Lady in Black on A♠
Ub Iwerks picture c/o Wikipedia