Dr Fauci,
invited to throw first pitch
for the Nationals.
Fake crowd noise.
Cardboard cutout fans.
Out there alone
on the pitcher's mound,
in an empty stadium,
wearing a face diaper.
The ball practiced
extra-safe social distancing
from home plate and strike zone.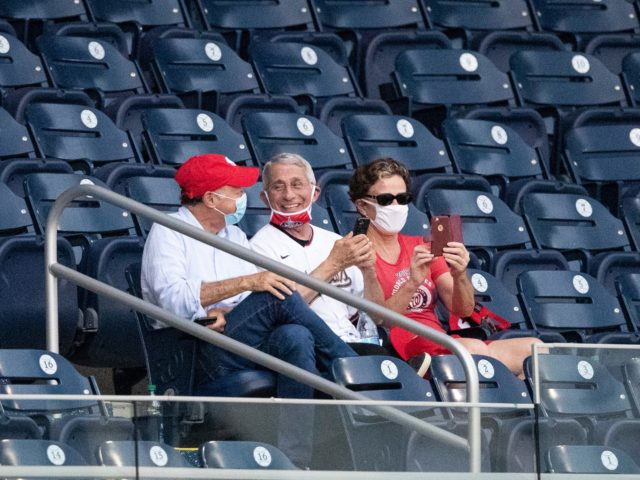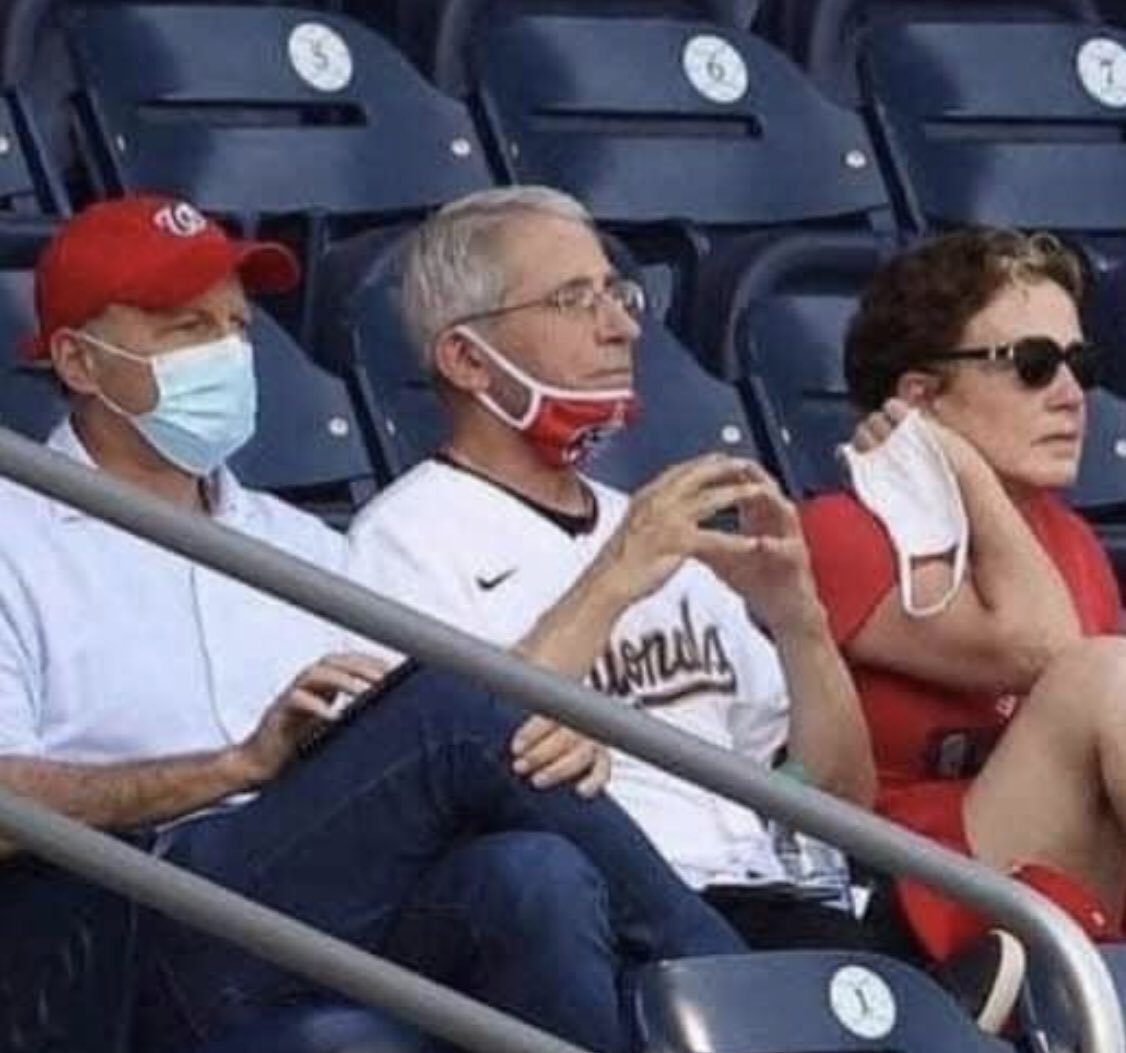 ---
I read the following…
Fauci is seriously a very bad man.
Let 10 children die in AIDS test even after he knew deaths were to high.
Spent AIDS research money on parties and funding for AIDS testing, zero prevention.
Started WHUFLU testing when Obama shut down CDC testing for:
1. Losing antrax
2. Keeping live polio in wrong type lab
3. Continuously studying foreign viruses on US soil
So he contracted out the virus weaponization to Wuhan to get around Obamas orders.
Posted by: rhennigantx on A♠ at July 24, 2020 07:18 AM
…so I asked for some sources on these claims…
rickb223 noted this article, with links to its own sources:

Mark Simone, 710wor – May 12, 2020
It's hard to believe but America's top Infectious Disease Doctor Anthony Fauci has been wrong on the coronavirus pandemic —Every step of the way!
Here is a list of several errors, contradictory statements and dangerous gaffes by NIAID Director Dr. Tony Fauci
1.) Dr. Fauci says he warned Trump in January that the US was in real trouble but that is not what he said publicly.
In January Dr. Anthony Fauci told Newsmax TV that the United States "did not have to worry" about the coronavirus and that it was"not a major threat."
2.) Dr. Fauci warned of an apocalyptic coronavirus pandemic — then just weeks later he compared the coronavirus to a bad flu.
3.) Dr. Fauci based all of his predictions on models the that were OFF BY MILLIONS and then later told reporters,"You can't really rely on models." …
rhennigantx noted the following three sources.
NIH Tested AIDS Drugs on Foster Children
NPR – May 27, 2005
Article does not mention Dr. Fauci specifically.
Earlier this month, the Associated Press reported that researchers at the National Institutes of Health had tested AIDS drugs on hundreds of foster children in the late 1980s and '90s. In many instances, allegedly, the drugs were given without having independent monitors assigned to the children, which is the law in most of the states where these tests were conducted. Dr. Jonathan Fishbein, an AIDS research expert at the NIH, has criticized his agency for what he says is irresponsible drug testing.
Fauci Files: Celebrated doc's career dotted with ethics, safety controversies inside NIH
Daniel Payne and John Solomon, Just the News – July 23, 2020
Reinstated whistleblower says Fauci failed to get involved when problems emerged on his management watch.
A Just the News review of three decades of Fauci's leadership of the National Institutes of Health's infectious disease arm found that while his agency has achieved many successes in the fights against AIDS and other infectious diseases it also produced several instances — like the foster children research — in which congressional, government ethics and internal watchdogs found safety or ethics lapses on his watch.
Dr. Fauci backed funding for controversial Wuhan lab studying origin of coronavirus
By Joe Tacopinok, NY Post – April 29, 2020
Fauci's National Institute of Allergy and Infectious Diseases had shelled out a total of $7.4 million to the Wuhan Institute of Virology lab — which has become the focus of theories about the origin of COVID-19…. The National Institutes of Health, which oversees the NIAID, shut down all funding to the lab last week. …
---
Buck Throckmorton, A♠ – July 27, 2020
n mid-February, when overseas reports about the Wuhan Virus were getting pretty scary, Fauci told us "There is no reason for anyone right now in the United States, with regard to coronavirus, to wear a mask". It was a Scientific Fact™ that masks don't help.
More. Fauci: Risk of coronavirus in USA is 'minuscule'; skip mask and wash hands
Scientific Facts™ change fast when the political winds dictate, however, so Fauci's previous scientific ramblings about masks were discarded for new and more politically helpful scientific pronouncements. Fauci says 'everyone' should wear masks to curb spread of coronavirus
How about Fauci and hydroxychloroquine? Well, he's consistently inconsistent.
The Virology Journal – the official publication of Dr. Fauci's National Institutes of Health – published what is now a blockbuster article on August 22, 2005, under the heading "Chloroquine is a potent inhibitor of SARS coronavirus infection and spread."
By May 2020, however, Fauci found his tribe demanding he get in line with Team Anti-HCQ, so he obliged. Fauci: Hydroxychloroquine not effective against coronavirus
Of course, by July it had become clear that HCQ is effective, Treatment with Hydroxychloroquine Cut Death Rate Significantly in COVID-19 Patients, Henry Ford Health System Study Shows. So all sides are now in general agreement that when it comes to HCQ, Fauci is an addled old man who can't keep his stories straight. But aside from that, he's still the world's smartest man, especially when he says anything anti-Trump.…
---
William Sullivan – American Thinker – July 27, 2020
h/t J.J. Sefton's Morning Report on A♠
Like anyone who's paid the slightest bit of attention during this pandemic, you've probably noticed how the narrative regarding cloth face masks has evolved. Back in March and April, the surgeon general assured Americans that masks are "NOT effective in preventing the general public from catching #Coronavirus," so people should "STOP BUYING MASKS!" The pre-eminent Dr. Fauci similarly assured us that there's no reason for Americans to be wearing masks, because they offer a false sense of security, they cause people to incessantly touch their faces to adjust them, and most people don't wear them correctly, anyway. The World Health Organization concurred, saying the general public should not be wearing masks.
An interesting theory has emerged to explain how this once-government-sanctioned, sage advice evolved to become "everyone must wear cloth masks in all public settings or others will die," followed by statewide mandates to have everyone wear masks in public places. It has been openly asserted by Dr. Fauci, and genuinely believed by many, that all of these public health officials and organizations actually knew that wearing masks is an effective way to slow the spread of COVID-19 back in March and April, but they engaged in a coordinated conspiracy to deliver the opposite advice, in unison, because they wanted to avoid a public frenzy that would disrupt supply chains for medical masks and personal protective equipment (PPE) for health care workers.
You'd have to climb out onto a pretty weak, thin limb to believe that's true. I've seen an awful lot of people wearing masks around since the beginning of the pandemic, and few of them are wearing anything resembling medical equipment. Many of them are wearing nothing more than ordinary pieces of cloth. If Dr. Fauci had actually believed, as he seems to believe now, that loosely wearing any common rag over your face might be effective in preventing COVID-19 spread, there would have been nothing to prevent him from saying so.
If masks truly work, how many millions were infected before he advised Americans to wear them? How many died as a result of his lie?
Inescapably, we must conclude that either Dr. Fauci was lying to the American people back in then, as he now says he was, or, much more likely, he's lying to us now by telling us he was lying to us back then. I'm not sure which is worse, but it really doesn't matter — the chief public health official in the United States government lying to the American people is a breach of public trust that should be unforgivable, and there is absolutely no reason to believe anything else he says with regard to public health.…
---
I have no source links for the following. Yet.
Dr. Anthony Fauci, the nation's top infectious disease expert and the leading medical face in the fight against the coronavirus, says his family has become the targets of what he calls "serious threats." That includes against his wife and his daughters.
Fauci, director of the National Institute of Allergy and Infectious Diseases, made the comments on "The Axe Files" podcast with David Axelrod.
Fauci said that back when he was giving the nation advice during the AIDS pandemic, he would get some hate mail. But he said what he's receiving now is something else — rooted in anger.
"Serious threats against me, against my family, my daughters, my wife. I mean, really? Is this the United States of America? But it's real," Fauci said. He said he's been given additional security.
Fauci said he's just doing his job and is not the hero some people are making him out to be.
"There are people who get really angry at thinking I'm interfering with their life because I'm pushing a public-health agenda," he said.
Posted by: Bertram Cabot, Jr. on A♠ at July 25, 2020 01:19 AM
---
I have no source links for the following. And probably won't.
BREAKING MULDOON NEWS: Dr. Anthony Fauci suffered minor injuries at a recent Washington Nationals baseball game when he was confronted and pushed to the ground by an MLB cardboard cutout fan. "That guy was reaally strong!" the renowned epidemiologist was heard to say.
Posted by: Muldoon on A♠ at July 25, 2020 09:01 AM
---

c/o TownHall
h/t rhennigantx on A♠
Bonus Baseball Video